FOLDABLE, RIGID AND COMBO PALLET BOX
Pool Management offers a wide range of rigid, foldable or bulk liquid pallet boxes. Our pallet boxes are ideal for the pharmaceutical, agri-food and cosmetic industries, and more.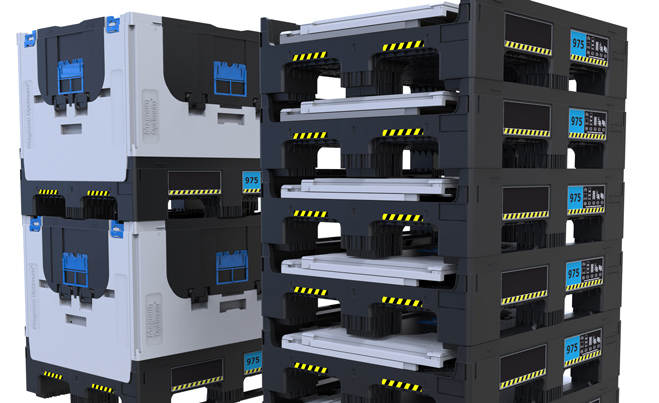 Pallet boxes optimise the transport and storage of goods, especially in logistics loops. The foldable pallet boxes reduce storage space and empty transport volume. Lids are included, with optional locking systems and smooth or perforated walls for easy cleaning. These sturdy crates are designed to perform multiple loop cycles and can be mostly fully recycled at the end of their life.
Packaging of bulk liquids is made possible with the bulk combo up to 1000 liters.
magnum OPTIMUM®
1200 x 800 mm
FOLDABLE PALLET BOX

Exceptional folding rate of 72% allowing 30% less empty storage space compared to previous generations

Designed to perform multiple loop cycles and be fully recycled at the end of its life

Stackable with or without lid

New door locking system

Lid accessory 1210x810x73 mm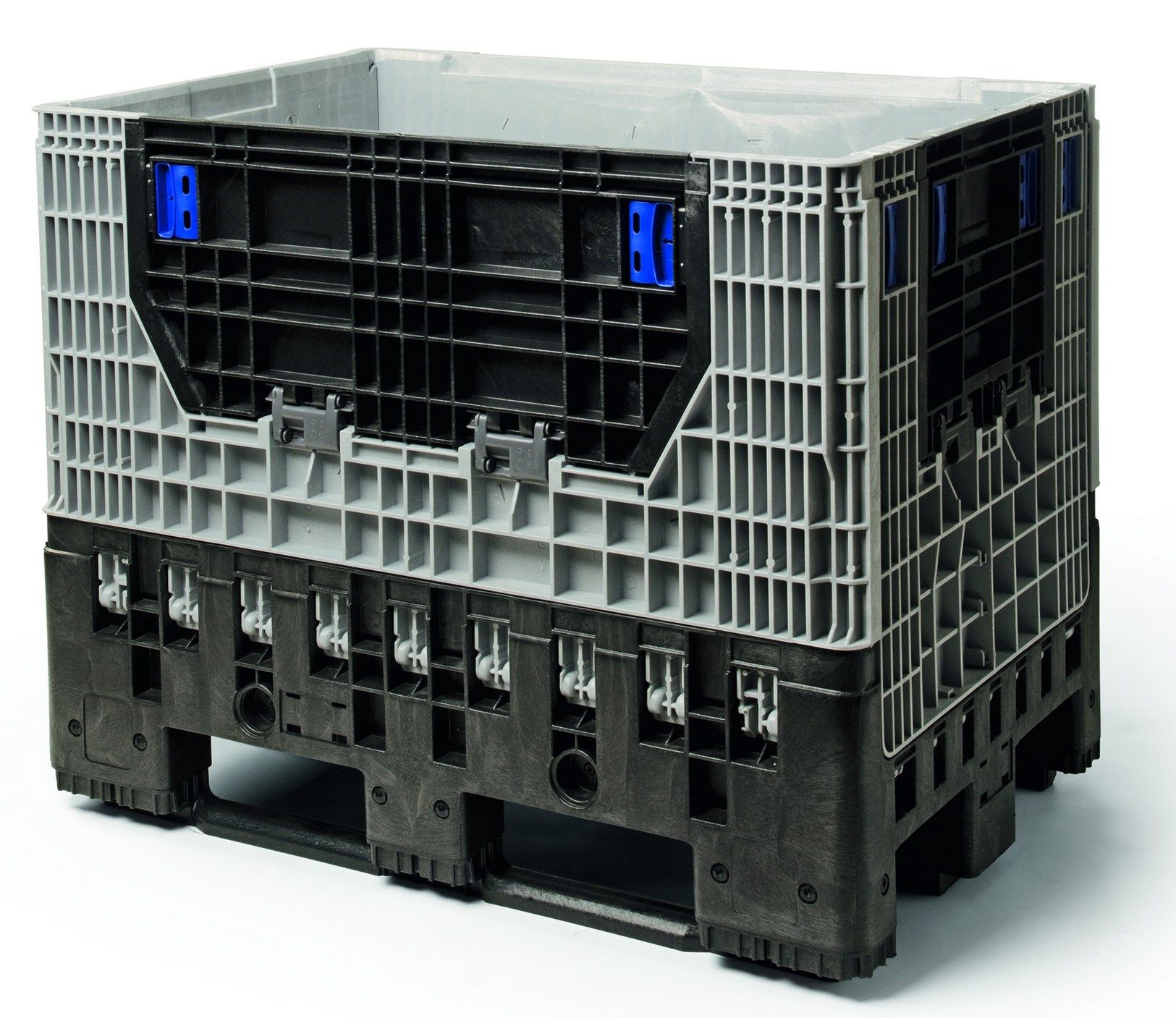 Item number: CPMAGNUM950
Order stack of 6
Exterior length (mm): 1200
Exterior width (mm): 800
Exterior height (mm): 950
Interior length (mm): 1120
Interior width (mm): 720
Interior height (mm): 735
Colour: Grey/Black
Capacity (L): 600
Static Load (kg): 200
Dynamic load (kg): 1100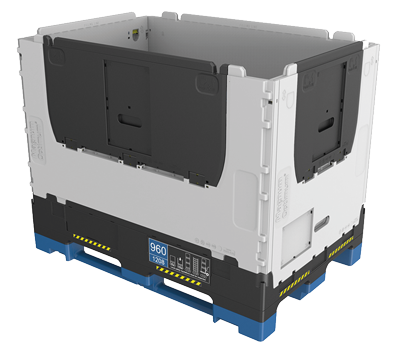 Item number: CPM01208
Order stack of 8
Exterior length (mm): 1200
Exterior width (mm): 800
Exterior height (mm): 958
Interior length (mm): 1142
Interior width (mm): 742
Interior height (mm): 785
Colour: Grey/Black
Capacity (L): 734
Static Load (kg): 300
Dynamic load (kg): 1600
magnum OPTIMUM®
1200 x 1000 mm
COLLAPSIBLE PALLET BOX

This crate is certified to handle a maximum unit load of 750 kg in compliance with the DIN EN 13626 standard

Huge savings from "Reverse Logistics": best folding rate on the market

10% bigger dimensions and volume thanks to welded walls

Smooth, easy to clean and use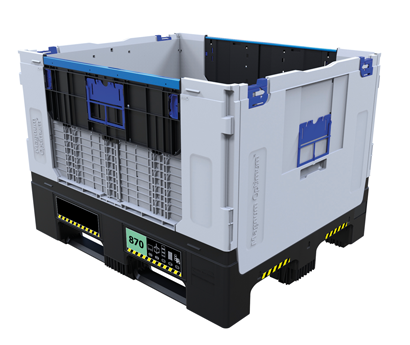 Item number: CPOPTIMUM870
Order stack of 8
Exterior length (mm): 1200
Exterior width (mm): 1000
Exterior height (mm): 870
Interior length (mm): 1140
Interior width (mm): 940
Interior height (mm): 685
Colour: Grey/Black
Capacity (L): 734
Static Load (kg): 3200
Dynamic load (kg): 1600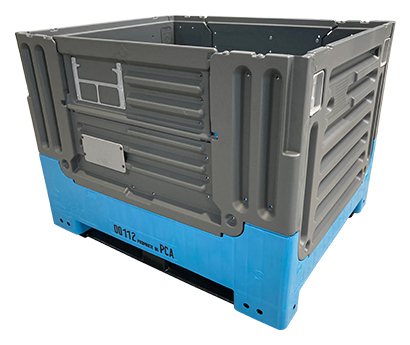 Item number: CPPCA112
Order stack of 6 Exterior length (mm): 1200 Exterior width (mm): 1000 Exterior height (mm): 900 Interior length (mm): 1140 Interior width (mm): 915 Interior height (mm): 675 Colour: Grey/Blue Capacity (L): 701 Static Load (kg): 3200 Dynamic load (kg): 1600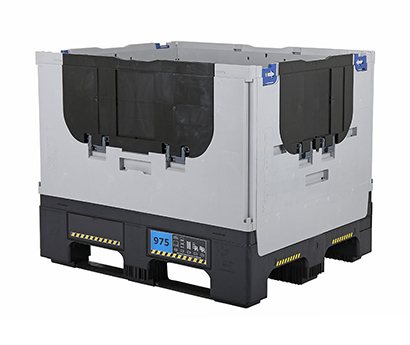 Item number: CPOPTIMUM975
Order stack of 8 Exterior length (mm): 1200 Exterior width (mm): 1000 Exterior height (mm): 975 Interior length (mm): 1140 Interior width (mm): 940 Interior height (mm): 790 Colour: Grey/Black Capacity (L): 847 Static Load (kg): 3200 Dynamic load (kg): 1600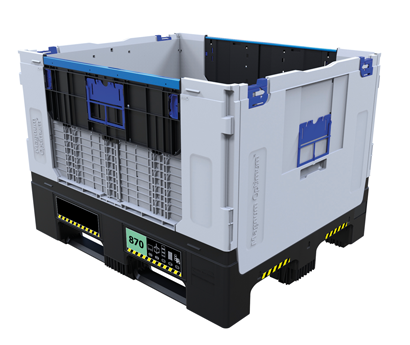 Item number: CPMAGNUM1200
Order stack of 8 Exterior length (mm): 1200 Exterior width (mm): 1000 Exterior height (mm): 1200 Interior length (mm): 1120 Interior width (mm): 920 Interior height (mm): 955 Colour: Grey/Black Capacity (L): 980 Static Load (kg): 3200 Dynamic load (kg): 1600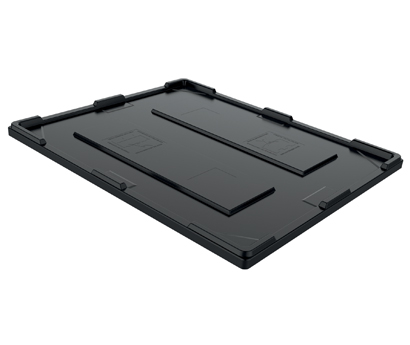 Item number: COUVPAL120X100
Exterior length (mm): 1220
Exterior width (mm): 1020
Exterior height (mm): 50
Colour: Black
Extremely durable

Reinforced walls: minimise the impact of shocks caused by pallet handling

Smooth interior walls: for easy emptying, cleaning and drying

The container complies with the standards DIN EN 13626 and DIN EN ISO 12048

Exceptionally sturdy, especially pallet boxes CB1 and CB3 in three runners Available in a variety of colours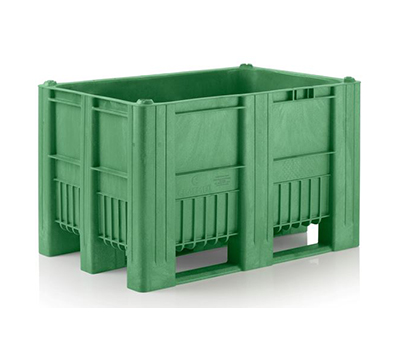 Item number: CPCB1
Order stack of 4
Exterior length (mm): 1200
Exterior width (mm): 800
Exterior height (mm): 740
Interior length (mm): 1115
Interior width (mm): 715
Interior height (mm): 595
Capacity (L): 470
Static Load (kg): 5000
Dynamic load (kg): 1200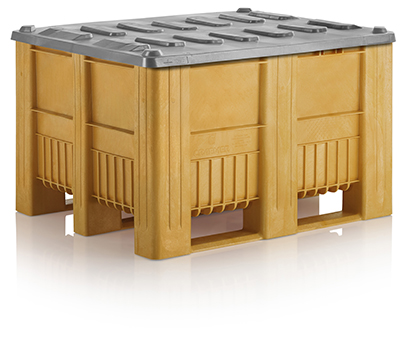 Item number: CPCB3
Order stack of 4 Exterior length (mm): 1200 Exterior width (mm): 1000 Exterior height (mm): 740 Interior length (mm): 1130 Interior width (mm): 925 Interior height (mm): 595 Capacity (L): 610 Static Load (kg): 5000 Dynamic load (kg): 1200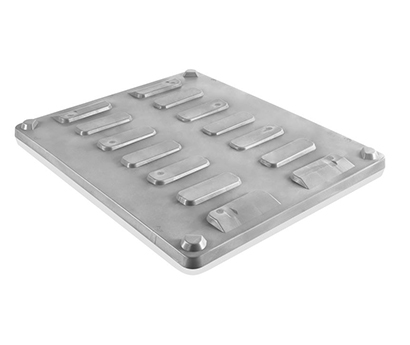 Item number: COIFFECB3
Minimum quantity: 4
Exterior length (mm): 1237
Exterior width (mm): 1036
Exterior height (mm): 63
Interior length (mm): 1215
Interior width (mm): 1013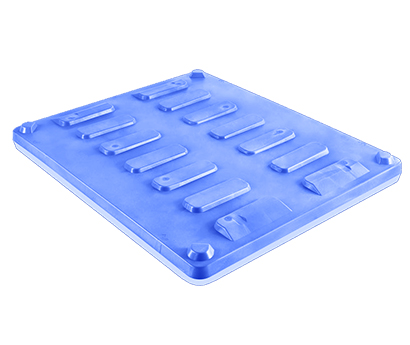 Item number: COIFFECB1
Minimum quantity: 4 Exterior length (mm): 1236 Exterior width (mm): 836 Exterior height (mm): 63 Interior length (mm): 1214 Interior width (mm): 815
FOLDABLE LIFE® COMBO
BULK LARGE CONTAINER
Ideal for packaging bulk liquids

60% folding rate allows 5 stacks per truck

 Simple and fast handling managed by a single operator

 Double-walled structure for stacking a load of 7500 kg

Holds up during road, rail and sea transport

 Ideal for the pharmaceutical, agri-food and cosmetics sectors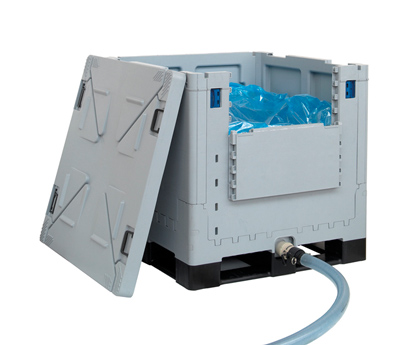 Item number: COMBO1155X1155X1132
Order stack of 5 Exterior length (mm): 1155 Exterior width (mm): 1155 Exterior height (mm): 1132 Interior length (mm): 1065 Interior width (mm): 1045 Interior height (mm): 940 Colour: Grey Capacity (L): 1060 Static Load (kg): 7500 Dynamic load (kg): 1400